Skip to Content
Stairs and Handrails in Ottawa
Building trust each step of the way, we create durable and beautiful staircases and hand railings. Stairways are centerpieces in your home and serving both a practical and decorative purpose. A customized rail provides an elevated aesthetic value, as well as, ensuring that the staircase is safe to use.
When a handrail or full railing is part of a project, we have a handrail expert in our network, with 34 years of experience under his belt. Someone we trust because he delivers quality workmanship.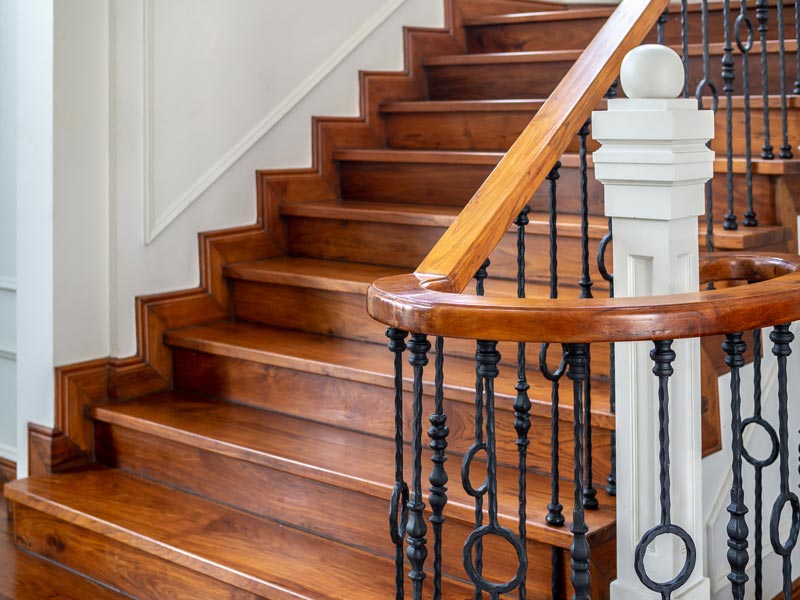 Reliable Stairs and Handrails From Royal Hardwood Floors
Stairways are an essential part of many homes. Not only do you want them to look beautiful, but they also need to adhere to safety standards. Royal Hardwood Floors can create reliable stairs and handrails, in addition to hardwood floor refinishing. Installing stairs and handrails can appear daunting to many homeowners. There are several building codes it's important to be familiar with, and if stairs aren't constructed properly, they can become safety hazards. Many of our clients have questions about how to adhere to Canadian building codes.
Step Up With Royal Hardwood Floors
Creating a stairway can be a daunting task for many homeowners. There are several details to take into consideration, and many of them are indispensable to the safety and functionality of the staircase. Royal Hardwood Floors presents a reliable solution to the Ottawa, ON community. Our services centered on stairs and handrails can make the process of creating a landing and installing a railing much easier for busy homeowners. At Royal Hardwood Floors, safety is our top priority, and we're committed to creating stairs that meet your aesthetic satisfaction without compromising security. We adhere to all of the aforementioned building codes for stairways, and we strive to provide the best results possible.
Frequently Asked Questions
Have a Hardwood Floor Project? Book a Free Quotation.