Skip to Content
Transformative Wood Floor Renewal in Ottawa, ON
Royal Hardwood Floors Can Restore Hardwood Floors
Since 1922, Royal Hardwood Floors has been Ottawa, ON's premier hardwood floor restoration services leader. We have the knowledge, experience, tools, and trained flooring contractors to rejuvenate your wood floors. With decades of experience providing floor restoration solutions for homeowners throughout the area, we are confident we can help you. Your hardwood floors provide your home with unmatched charm and value. Speak with our trained professionals before you consider replacing them. You'll be surprised with how we can bring old, damaged hardwood floors back to like. Contact our team today to get started with a free estimate.
Hardwood Floor Restoration Process
As a floor restoration business with decades of experience, we have stayed up-to-date on the latest materials, techniques, and tools to provide you with unmatched service and quality. Our highly trained team of floor restoration contractors has the right tools to handle any size restoration project. Once we've completed the hardwood floor restoration, your old scratched and broken hardwood floors will look like new again. Our process includes:
Replacing Damaged Planks – For some homeowners, it may be necessary to replace wood planks that are cracked or have water damage. We can find the right wood type to perfectly match your existing hardwood for a seamless restoration project.
Sanding – Once we've repaired all the damage, the next step is to begin sanding the top layer of sealant and stain. This exposes the wood grain and provides a nice, even floor surface. We use a dustless sanding machine that eliminates nearly all the dust from the process for cleaner and healthier air quality. After we've completed sanding, we will prepare your floors for staining.

Staining

– Choosing the right hardwood stain for your home can be exciting and offer a fresh, new perspective on the space. Whether you want something light and relaxing or dark and bold for your room, we can help. We have a huge selection of wood stains available and can even customize a color to match your home's aesthetic.
Finish – Once the stain has dried, we'll apply a finish to help protect your hardwood floors from water damage and scratches. There are a variety of finishes available that offer a matte or high-gloss look. We can help recommend the right finish for your floors for long-lasting protection.
Should I Restore or Replace My Hardwood Floors?
Some homeowners may look at their hardwood floors and feel that replacement may be necessary. Before you consider replacing your hardwood floors, contact Royal Hardwood Floors. Oftentimes, we are able to restore and revitalize floors other companies think are too damaged to repair. Your home's old hardwood provides it with outstanding charm, and replacing them may detract from your home's appeal. When you choose to restore your hardwood floors, you're potentially saving hundreds of dollars when compared to the price of replacing them. Not only that, replacement takes longer to complete than refinishing, which will minimize interruption to your day-to-day life.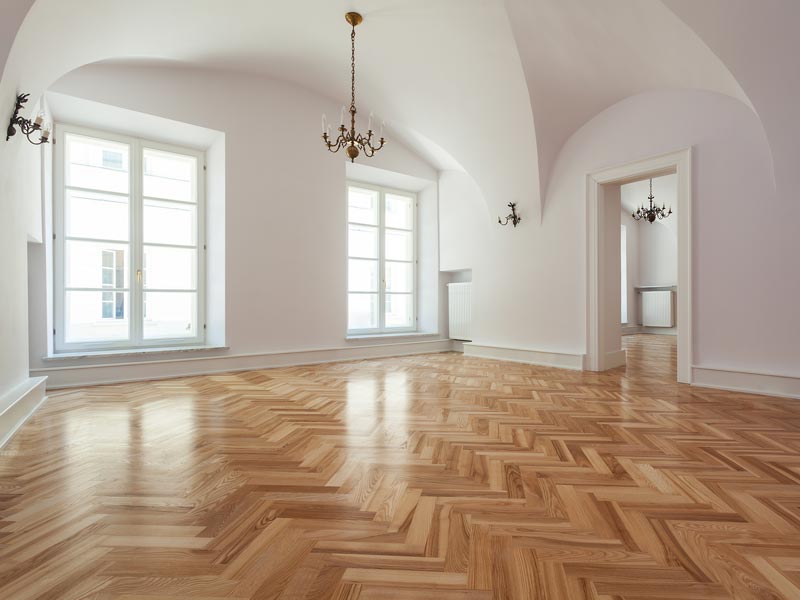 Tips for Restoring Your Hardwood Floors
Restoring your home's hardwood floors should be completed by a professional to guarantee the best results. However, advanced home improvement experts may consider completing the project on their owner. If you're considering a DIY approach to your hardwood floor restoration project, keep these tips in mind to ensure you achieve the look you want:
Use the right equipment
Sand your floors evenly
Clean up wood dust before applying the stain
Choose high-quality materials
Choose the Right Floor Restoration Professionals
Royal Hardwood Floors in Ottawa, ON, is the area's leader in hardwood floor restoration. Our team utilizes the latest tools and equipment to ensure you're totally satisfied with the work we offer. Since 1922, we have been serving homeowners throughout the area, and we are confident we can help you too. Contact our team today to get started with a free quote.
Have a Hardwood Floor Project? Book a Free Quotation.