Skip to Content
Stair Capping in Ottawa, ON
Beautiful Hardwood Options for Ottawa Homes
We are pleased to offer professional stair capping for our customers in the Ottawa area. When it comes to protecting your stairs and transforming the look of your home, stair capping is a popular and affordable option that we love to offer to our customers. Royal Hardwood Floors offers a variety of stair caps, all made from different cuts of wood and custom-made to fit your home.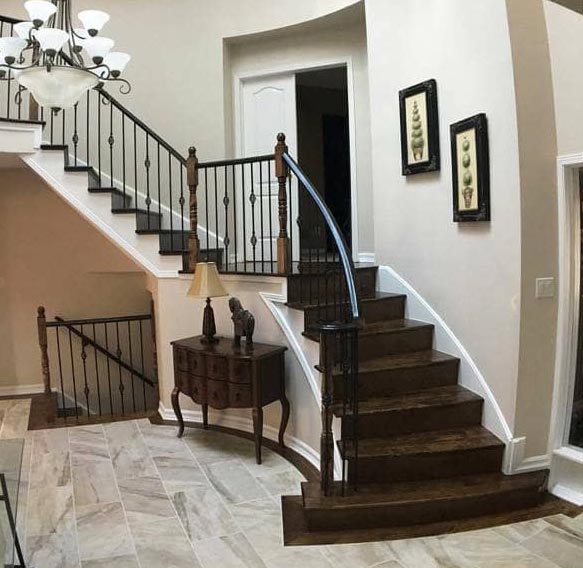 What Is Stair Capping?
Stair caps are prefabricated covers placed over an existing set of stairs. Rather than having the bare wood show, which may be rough or have an undesirable look that doesn't fit in with the rest of your house, stair caps allow you to completely customize the appearance and feel of your staircase.
Caps are entirely unique to the homeowner's preferences. We work to cover your staircase in beautiful, durable caps that completely transform the look of your home. You simply inform our team of your preferences, including the type of wood and the staining, and we cut caps that fit perfectly over your existing set of stairs.
Why Should I Choose Stair Capping?
There are several reasons to consider stair capping:
You are dissatisfied with the look of your staircase, or feel there isn't enough character to your home.
Capping is much more affordable than installing new stairs or making other costly alterations.
Stair caps give you complete customization and control over the look of your staircase.
Capping transforms your stairs without disturbing the underlying wood, walls, or paint.
Stair caps protect your stairs from wear and tear over the long term.
How Are Stair Caps Installed?
Royal Hardwood Floors works to make the installation process as quick and as smooth as possible. We handle all of the heavy lifting for you. The process starts off with a consultation, which you can set up by contacting us directly. Once we have taken measurements of your stairs, taking into account the dimensions and curvature, we will work with you to find the best option for your home. We give you control over the color and staining. Given that every piece of wood has its own grain and "personality," your stair caps will be completely unique! Once we understand your preferences, we cut your stair caps and begin the installation process. We place the caps on top of the existing stairs, securing them in a way that does not damage your walls or paint. The length of the process can vary, but typically takes between 7-10 days.
Why Choose Royal Hardwood Floors?
When it comes to installing hardwood floors and stair caps, you should choose a company you can trust to treat your home with the respect it deserves. Royal Hardwood Floors has served Ottawa and parts of Ontario since 1922. During a century of hard work, we have helped thousands of customers transform their stairs and feel proud of their homes. We are dedicated to providing 100% customer satisfaction and giving you quality stair caps at an affordable price. We have been in business for so long because we simply love what we do.
Professional Stair Capping in Ottawa
You want your home to be as beautiful as you can make it. Stair capping is a small but brilliant detail that helps make your home pop. Stair capping gives your stairs a breath of fresh air with quality wood that can last a lifetime. Turning your house into a home is no easy task. Luckily, the team at Royal Hardwood Floors is here to make the job easier. Contact us directly at 613-809-5119 for stair caps and hardwood floors in the Ottawa area.
Have a Hardwood Floor Project? Book a Free Quotation.