Skip to Content
Hardwood Floor Staining Services in Ottawa
We can match your existing floors with your new hardwood floors. Jean is an expert stain color technician. He creates unique color blends that are not sold on the market, which is ideal when it comes to matching new wood with old wood. Interior designers and architects greatly appreciate having this custom-tailored service.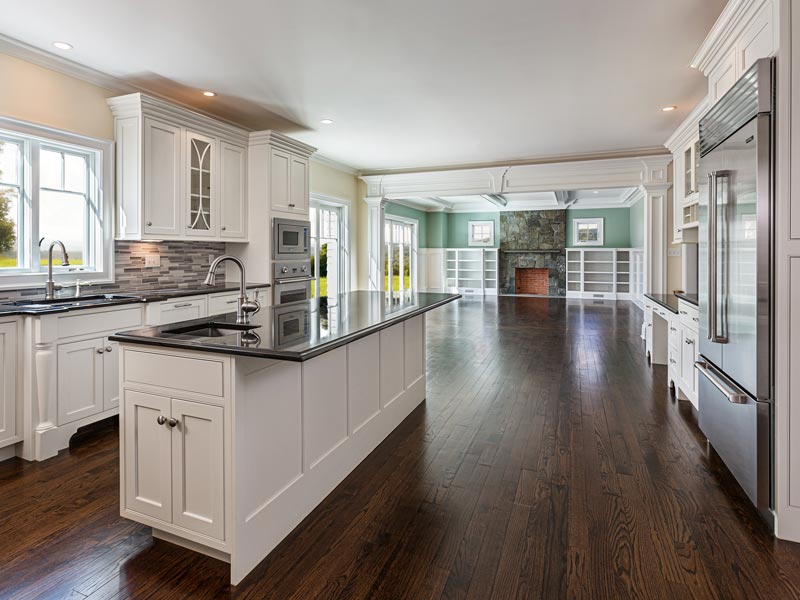 The Procedure
Jean has a palette of samples of stain colors to choose from. He will also mention that he can custom make specific colors. Ensuring that you know that you have that option.
Then he will apply the color directly on a 3′ by 3′ section of your sanded floor. Then ask if you want him to make the stain tone darker, lighter, or blending in another color.
Royal Hardwood Floors Offers Exceptional Staining Services
We all have an idea in our head of what we'd love our home to look like. Many times, our homes don't quite live up to what we envision. With Royal Hardwood Floors' staining services, though, you can get one step closer to the perfectly-designed home. Choose from numerous stain colors to find the ideal shade for your hardwood floors. We're a leader in hardwood flooring refinishing in Ottawa, ON, and we want to help give you the home of your dreams. Contact our staining experts to learn how a newly stained floor can improve the aesthetics of your home.
The Staining Process for Hardwood Floors
There's a reason we're among Ottawa, ON's top choices for hardwood floor staining. Our immense variety of styles combined with exceptional customer service have our clients coming back for all their hardwood flooring needs. When you decide on Royal Hardwood Floors for staining, the first order of business is to choose the ideal shade for your home. We have a wide range of colors to choose from, and if you don't see something you like, we can custom-create a color for you. Once you've picked out a color, our professional team wants you to be sure you'll love the final look. We'll apply the chosen color to a 3′ by 3′ section of your sanded hardwood floor. You can decide if you like the color, and if you change your mind, we can make the shade darker, lighter, or mix in other colors to your liking. At Royal Hardwood Floors, we don't compromise on a beautiful product or customer satisfaction.
Staining Challenging Types of Hardwood Floors
Royal Hardwood Floors has been a part of the Ottawa, ON hardwood floor refinishing industry for nearly 100 years. In that time, we've seen everything, and we've developed the skills to stain some of the most challenging types of wood. We can change the color of engineered wood floors with our hardwood floor restoration techniques. Woods like pine, cherry, birch, and maple feature grain patterns that make staining extra tricky. When applied to these materials, stain can't find many pores and open spaces to hold onto, often resulting in a splotchy appearance. Maple hardwood floors, for instance, need to be stained using great caution. Staining professionals are your best bet for achieving an even look throughout your maple floors. However, remember that woods like maple are not meant to be stained. It may be best to consider choosing a different material for your floors if you want to stain.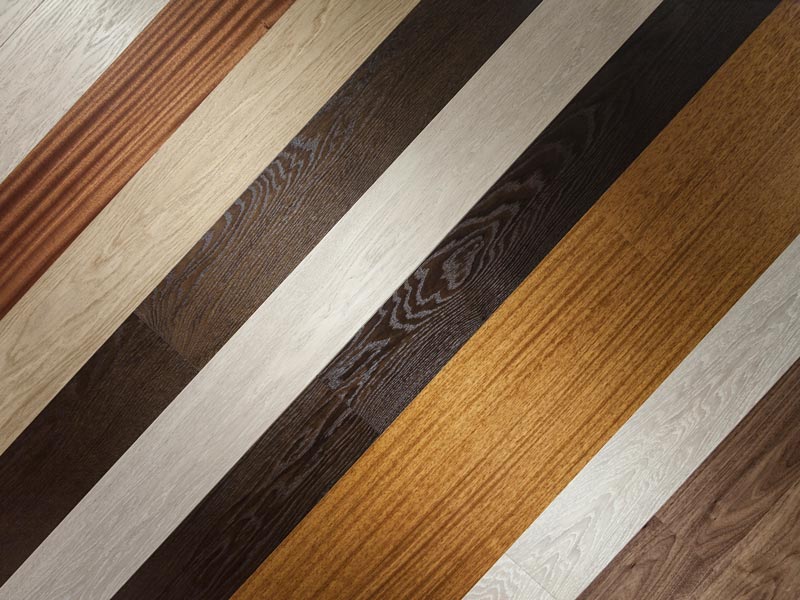 Staining Oak Floors With Royal Hardwood Floors
Contrary to popular belief, oak floors can certainly be stained a darker shade. This type of wood tends to absorb staining materials and take on a streaky effect. However, a hardwood flooring professional will be able to stain oak wood as dark as you want it. Our team at Royal Hardwood Floors will sand down the floors in your Ottawa, ON home and apply the new coat of stain at a steady pressure. The trick with oak is to let the stain sit for at least 15 minutes. The longer the stain is allowed to set, the darker the resulting color will be. Even with absorbent oak hardwood flooring, Royal Hardwood Floors can give you the floors you envision.
How Long Does It Take for Stain to Dry on Hardwood Floors?
For stain to dry properly, you'll need to set aside a large block of time. A coat of stain typically takes 24 hours to dry completely. However, this time increases to up to 48 hours for some darker stains. For these darker stains, you may also want to plan for two coats to achieve the vibrant color you're looking for. Let our flooring experts at Royal Hardwood Floors know about your specific floors, and they can explain the timetable of staining your hardwood floor.
Ottawa, ON's One-Stop Shop for Hardwood Floor Restoration
At Royal Hardwood Floors, we offer the excellent staining services you need to restore your hardwood flooring fully. No matter the type of wood or color you want, our team will accommodate you. Customer service is our priority, and we want you to have the home that matches the ideal version you envision.
If you're ready to get started on staining your hardwood floors, contact us today. All we need from you is your contact information and the details of what kind of service you need. Our team is excited to help you.
Have a Hardwood Floor Project? Book a Free Quotation.