Skip to Content
Stair Refinishing for Ottawa Homes
Transform Your Stairs and Revitalize Your Home
The staircase is often one of the first things you see when you walk into a home. As the focal point of attention, having a beautiful set of stairs can make all the difference in your home. But rather than getting an entirely new staircase, there is a much more affordable and practical option: stair refinishing.
Staircase refinishing is the process of revitalizing your stairs to look new and pristine again. It aims to get rid of scratches, bring back luster, and completely transform the look of your home. Royal Hardwood Floors has performed stair refinishing for nearly 100 years, and we're ready to make the process as easy and affordable for you as possible.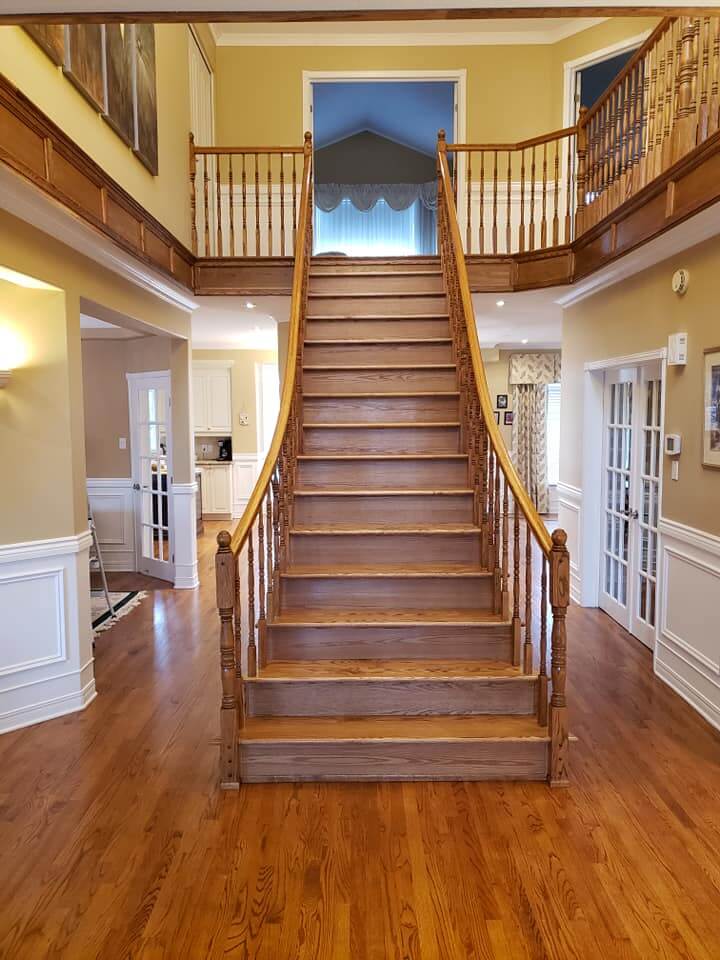 Stair Refinishing at Royal Hardwood Floors
Over time, your stairs can lose their luster. This is normal, considering that the staircase is one of the most heavily trafficked areas of a home. If you find that your stairs are losing their character, or simply aren't happy with the color or scratching, then it's time to consider stair refinishing.
Royal Hardwood Floors is proud to offer our customers quality refinishing services for staircases. Not only do we repair and refinish hardwood stairs, but we restore them to their former glory. We work to sand, finish, stain and restore your stairs so that you can have a staircase you are proud of. Refinishing can improve your staircase's longevity and save you costly repairs down the road.
Our Hardwood Stair Refinishing Process
Royal Hardwood Floors performs stair refinishing without any damage done to your walls, paint, floors, or air. First, we meet with you to discus what type of stain you desire and any concerns you may have. You can do this by contacting us directly. When the time come to refinish your stairs, we start by removing the carpet or existing stain on your stairs. Afterward, we begin sanding down the wood to ensure all the stain is removed and that we can work with the wood in its bare state. We then apply the stain, as well as adding multiple polyurethane coats and buffing the wood. In no time at all, you have a staircase that is completely revitalized!
What We Offer
Royal Hardwood Floors has served Ottawa and the surrounding area since 1922. In a century of hard work, we have become dedicated to providing quality staircase services to our customers. Whether that means refinishing a staircase or installing stair caps, we love to see customers feel proud of their home again. When it comes to refinishing your stairs, you want a company you can trust to do the job right the first time. That is why we guarantee our work and leave you with a staircase that is durable and beautiful.
Choose Royal Hardwood Floors in Ottawa
Staircases naturally collect scratches and lose their color and luster over time. Stair refinishing is simply the most effective and affordable way to transform the look of your stairs in a short time. When you are ready to see what Royal Hardwood Floors can do for your staircase, call us directly.
Have a Hardwood Floor Project? Book a Free Quotation.